2019 Volvo S90
November 19 2018, John Scotti Volvo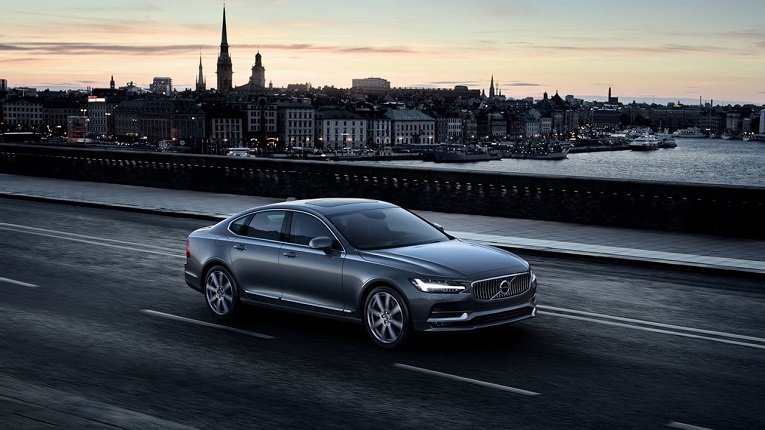 The 2019 Volvo S90 review: Volvo's luxury sedan
The heir to the S80, this new 2019 Volvo S90 is the ultimate luxury sedan made by Volvo.
It has an incredible comfort, a degree of finish that strives for perfection, state-of-the-art technology, and driving safety that's as bluffing as ever.
Available in the John Scotti Volvo dealership in Montreal, we went on a test drive of this new Volvo S90. Here is our opinion about this Swedish sedan.
Luxury in all its states
Whether inside or outside, this Volvo S90 is an aesthetic success from the Scandinavian manufacturer. The front lights, signature on new Volvo models, hammer-shaped Thor are splendid. The curves on the front hood increase its dynamic and sporty side. In the back, we find shapes that we've already seen on "Concepts Car" offered by Volvo and a family car look with the new Polestar No 1
In the cabin, we are quickly captivated by the 9" color center screen. Volvo Sensus interface is intuitive and provides quick access to a multitude of settings. A fun and fast way to set your Volvo S90 to suit your needs. In terms of comfort, we are also under the spell of the front and rear seats, everyone will find a perfect seat. Space at the knees and head is also important for the rear passengers.
Volvo S90 equipment
As standard, this Volvo S90 offers several equipment of comfort and safety. For example, we will mention in the elements of comfort:
Electric and heated front seats

The Volvo On Call

SiriusXM radio (6 months subscription included with the purchase)

Leather-wrapped steering wheel

Electric sunroof

And many others to discover
Safety on board the 2019 S90
The S90 is a showcase for Volvo and it's natural that it gets the highest rating in the insurance agency IIHS (Insurance Institute for Highway Safety).
In addition to a frame that is ready to take the shocks and protect you in the best possible way, Volvo has also integrated several safety technologies aboard the S90. The 360° camera, BLIS system, semi-automatic driver, animal detection and adaptive cruise control will be some of your best allies to help keep you safe.
Motorization and energy performance
Advanced technologies are not only applicable inside this vehicle but extended under the hood of this Volvo S90. The Swedish manufacturer offers two engines:
A 2.0L T6 engine with supercharger and turbocharger compressor of 316 hp

A T8 hybrid engine with 4 cylinders in line 2.0 L turbocharged and supercharged of a direct injection with electric motor for a total of 400 hp
Given the power of these engines and the 2.3 tons of this new S90, we would say that consumption should be exorbitant... But, it's not the case! Volvo reports a combined fuel economy of 9.3 L / 100 km for the T6 engine and 8.1 L for the hybrid version. Consumptions more than satisfactory for this type of vehicle.
The price of the new 2019 Volvo S90
In terms of price, the 2019 Volvo S90 is available in Quebec starting at $62 145. This price does not include taxes.
The John Scotti Volvo dealership in Montreal invites you to discover this 2019 S90. They will be happy to give you a test drive and find the best deal for your Volvo S90.