VOLVO XC40 CAR OF THE YEAR 2018
March 30 2018, John Scotti Volvo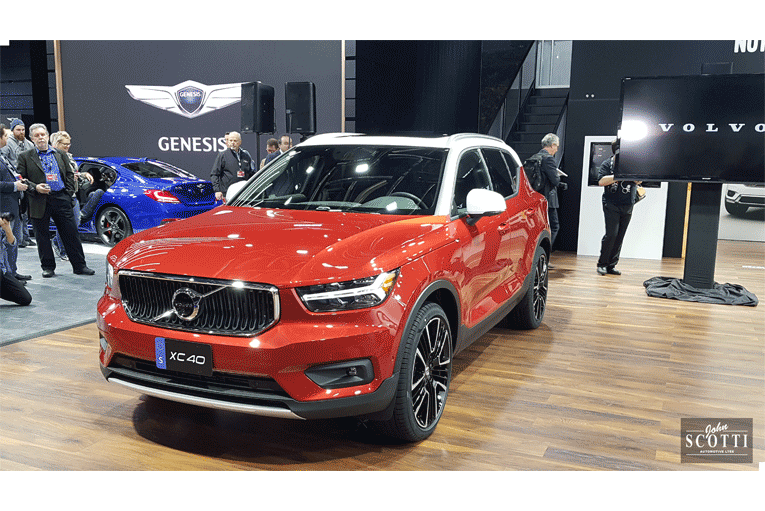 Shortly before making its Canadian debut at the Montreal Auto Show, the 2019 Volvo XC40 was appointed for the European Car of the Year title. It was officially crowned a few days before the 2018 Geneva Show
Appointed even prior to market launch
At the time of the appointment, in January 2018, the Volvo XC40 was not marketed anywhere in the world. But has already been appointed by expert journalists to participate in the car election of the year in Europe.
The style rewarded
This new compact SUV that completes the range alongside the XC60 and XC90, was first noticed by its exterior lines. Thor's hammer front lights and innovative curves hit the eye of the media right from the unveiling.
Innovative interior comfort
Inside, you can discover incredible features that make this XC40 an innovative model. Numerous elements such as a removable basket, card holders on the dashboard or the possible induction phone charging make this 2019 XC40 an example for future models in the industry.
Its affordable price

Available for purchase in Canada starting at $39,500 for the Momentum version and $43,700 for the R-Design version (transportation, preparation and taxes not included), it ranks as one of the most affordable vehicles in the category. It's the most powerful with 249 horsepower thanks to Volvo's T5 e-drive engine.
For lease, the 2019 Volvo XC40 is available at John Scotti Volvo starting at $ 272 bi-weekly. Taxes are included in this price.
Volvo Renewal
With this new SUV, Volvo is again making a lot of noise. Since the brand decided on a complete overhaul, all the models presented and sold have left no one indifferent on the automotive market. This Volvo XC40 follows the same dynamic and this nomination for Car of the Year title is proof of that.
As a reminder, this new compact SUV, the 2019 Volvo XC40, will be available at John Scotti Volvo dealership in Montreal in the spring of 2018.
Please note that Volvo will not offer enough XC40s to have vehicles in inventory for 2018. If you want to enjoy this new SUV this year, find out more in our article and order it now.