Volvo Technology: The Red Key
October 23 2018, John Scotti Volvo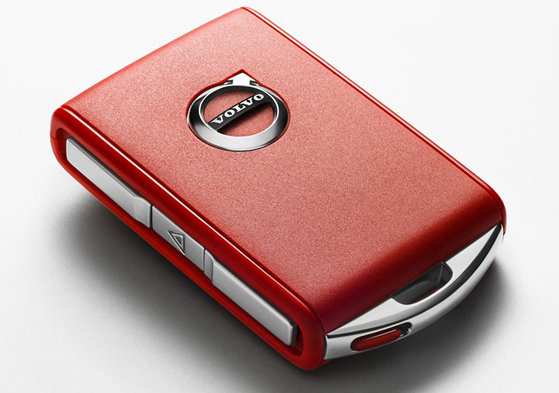 The Volvo red key: enjoy your peace of mind!
You are a parent? You know what does it mean to leave your car to your young son or daughter. Sometimes you do not feel very reassured to let him or her evolve without a parental control. Volvo has invented for you a new system called the red key.
This system will allow you to program several parameters that will restrict or reinforce some of the functions of the car to make it safer for your child and relieve your mind when lending your vehicle.
You will be able to adjust the following settings:
Adaptive cruise control: the maximum distance to the vehicle ahead is preset
Limitation of the maximum speed: preset to 120 km / h, it can be modified
Limited sound power: the volume cannot exceed a defined maximum. Your child will not be able to listen to the music at full volume and thus keep a close ear to what is happening around him
Speeding warning: as soon as the speed limit is exceeded, a sound signal will be emitted and will make it possible to pay attention to the danger incurred.
Other functions will also remain activated all the time and can not be disabled with this Volvo red key:
The BLIS system which warns the driver if a vehicle is in the blind spot
Lane Keeping Aid (LKA) and Lane Departure Warning (LDW)
An anti-collision system with automatic brake action
The driver alert system detects signs of tiredness of the driver and proposes to take a break if it seems necessary for safety
The distance warning to prevent an accident with the vehicle at the front
Recognition of traffic signs in traffic
All these elements allow reinforcing the safety of your child while driving your Volvo and have peace of mind when you lend him/her your vehicle.
It is obvious that this red key system can also be adapted when you give your keys to a valet service. We always have an apprehension by entrusting our car thinking the person could abuse our trust. With the red key, you now know that some misbehavior will not be possible.
This red key system is now available on the latest models developed by Volvo: the 2018 XC90, the 2018 V90, the 2018 V90 Cross Country, the 2018 XC60 and the 2018 S90.
Do not hesitate to ask our sales department for more details, who will be happy to tell you how to take advantage of this Volvo red key.