2019 VOLVO S60
The new 2019 Volvo S60 in Canada
November 19 2018, John Scotti Volvo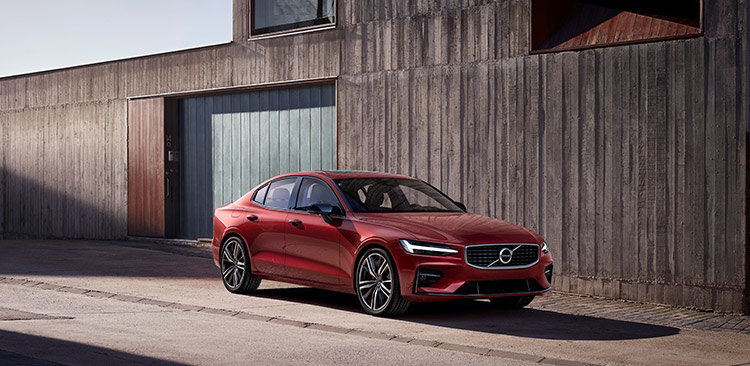 Following the launch in February 2018 of the new 2019 Volvo V60, the Swedish manufacturer will unveil its second new model of the year soon: the 2019 Volvo S60.
The 2019 Volvo S60 will be presented in the summer of 2018
This new 2019 Volvo S60 will be in front of the cameras at the end of the summer, and there is no doubt that the eyes of the automotive world will once again be on this Swedish latest generation sports sedan.
Pictures of the new 2019 Volvo S60
Shortly after the unveiling of the 2019 V60, Volvo CEO Håkan Samuelsson posted a photo of the new 2019 Volvo S60 on his Twitter account. Taken during a test, it is hidden behind a camouflage covering the car.
"Winter testing of new Volvo S60 in Lofoten Norway.
Passionate product owner Magnus Olsson very satisfied with results. Car will be built
in new factory in South Carolina later this year"
The front of the 2019 Volvo V60
Even with this color which does not allow to distinguish precisely the shapes of this 2019 S60, we notice that the front is the same as that of its siebeling the V60. Thör's hammer-shaped LED front lights also stop before the grille, unlike the 2018 Volvo XC60.
For the rest, there should be many similarities with the 2018 Volvo S90.
The 2019 Volvo S60 Plug-in Hybrid
It's no surprise to anyone, this 2019 Volvo S60 should be offered with a plug-in hybrid or 100% electric engine. According to the V60's engine options, it should offer the powerful T8 engine and Volvo's new T6 Twin Engine.
The price of the 2019 Volvo S60
To know the price in Canada of this 2019 Volvo S60, it will surely be necessary to wait until the end of the year 2018 or during its official presentation.
Release date in Canada
The arrival date at your John Scotti Volvo dealership in Montreal should be early in 2019, according to the latest information. All this remains to be confirmed.